Where do you stand today with your IT infrastructure and IT organization? A question that might not be as easy to answer as one might think. Integrative can help you find out where you stand today and where you need to go tomorrow. With our IT Maturity Assessment (IMA) service we will use industry best practices to stack your organization against the Infrastructure Optimization Framework (as illustrated below) to determine the state of your IT infrastructure and organization.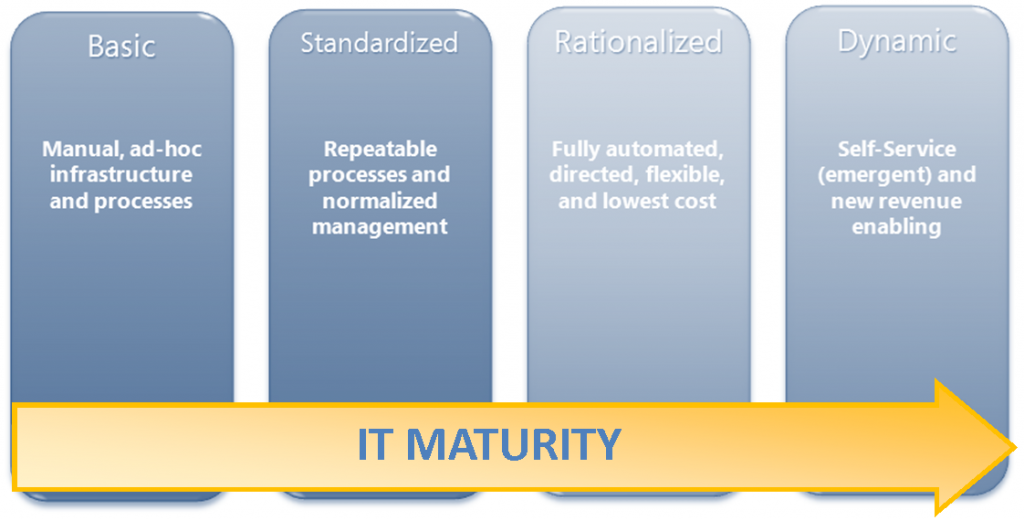 Firstly,
we have to determine point A, the assessment will help your organization find its current state within a framework of measurable variables. In other words, where are we today?
Secondly,
we need to determine point B, the desired state of the IT infrastructure and organization. In our experience this is one of the most important 'points' in the assessment. In this stage we will assess your IT organizations goals and drivers with our renowned no-nonsense approach to determine the actual requirements of the IT infrastructure and organization. In other words,
where do we need to be?
With point A and point B determined we can now help you define a short and long term strategy and road-map to get to point B in the most efficient and cost effective way possible. We believe the IMA is an essential foundation for a road-map that guides investments toward improvement goals and a corner stone of any well-defined IT strategy.
Curious to see what this would mean for your organization?
Contact Integrative today for an introduction